WATER DAMAGE RESTORATION COMPANY MARYSVILLE PA, WATER DAMAGE REPAIR & CLEANUP



• TopRatedLocal.com winner




• 24/7 live calls




• On our way within an hour




• Free estimates




• Veteran owned and operated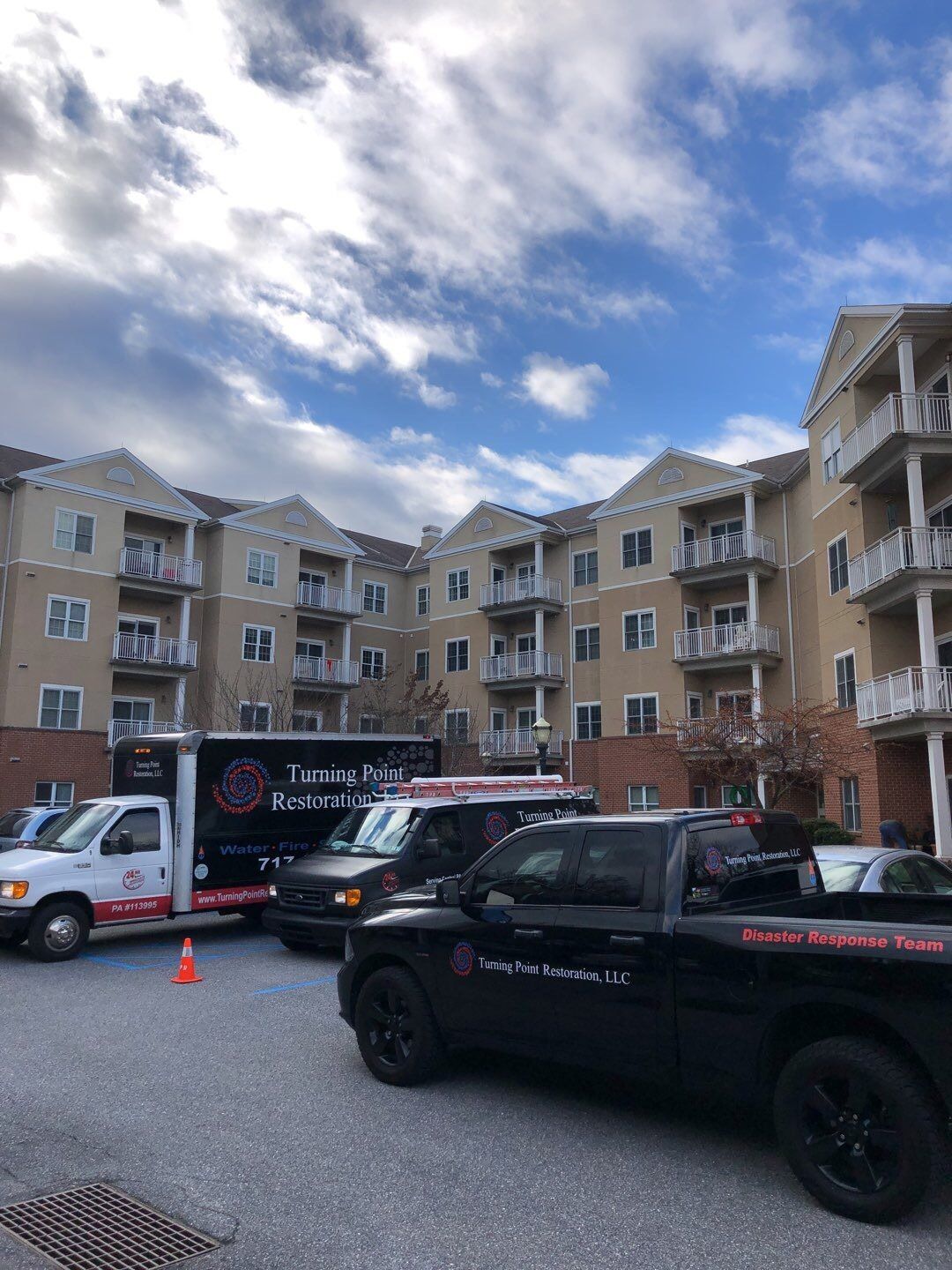 THE "

TURNING POINT

" OF YOUR DISASTER.




OUR PASSION IS SERVING YOU IN YOUR TIME OF NEED



ABOUT Our Water Damage Company
Turning Point Restoration, LLC is a Veteran-Owned, full-service restoration contractor. We help property owners in Central PA and the surrounding areas overcome the challenges resulting from unexpected damages to their homes and businesses. 
Our company is based on the belief that we treat each loss as if it were our own. We take pride in our ability to communicate with our customers and it shows by the many online reviews that our customers leave for us. We believe in staying on the cutting edge of restoration technology and continuing education opportunities for our entire staff.   Technicians are certified by the IICRC (Institute for Inspection, Cleaning, and Restoration Certification) and are prepared to restore your home or business to pre-loss condition. Your total satisfaction is our promise to you!
Premier Water Damage Solutions in Marysville PA
Water damage restoration is an essential service that demands the utmost professionalism and expertise to support you during challenging events like floods or leaks, ensuring complete moisture removal without causing further harm to your home or commercial building. At Turning Point Restoration in Marysville, that is our area of expertise and our commitment. 
We guarantee that our water damage company will stand by you throughout the entire process, including water removal, restoration, and any other services your situation necessitates. We utilize all available Marysville water mitigation resources to deliver the best residential or commercial property restoration.
COMPREHENSIVE WATER DAMAGE CLEANUP & REMOVAL FOR EVERY SITUATION
Water damage can happen anywhere in your home or property, but certain areas are more vulnerable and require close monitoring. Inspect the plumbing pipes and connections in your home's bathrooms and kitchen, as well as any pipelines in your basement or crawl spaces for standing water and leaks. 
Whether you have a leaky or broken pipe, frozen pipe water damage, sink overflow, toilet overflow, bathtub overflow, refrigerator, washing machine, water heater, or dishwasher overflow, air conditioner leaks, sump pump failure, hardwood floor damage, or flooding, our highly skilled and experienced Marysville restoration specialists can clean the area and repair the damage using our proven water damage services. 
After overcoming the initial shock, it's time to call the experts at Turning Point Restoration. As a Marysville water damage restoration company, we have cutting-edge tools and certified technicians who can quickly assess the situation so that water mitigation can begin right away. We'll follow the most efficient path to restoring your home or business to its pre-loss condition as quickly as possible.
Basement Water Damage Repair & Restoration
Did you know that insurance company research has found that 98% of basements will experience water damage during their lifetime? This is not surprising considering most of the pipes in your home or business are located in the basement. Basement flooding is a very serious water cleanup issue if it goes unnoticed for an extended period.
It's crucial to have a professional who understands how to carry out comprehensive basement water damage cleanup and structural drying address any problems as soon as possible before additional damage occurs. If you have a flooded basement, don't hesitate to call us right away to begin your basement water damage repair.
We'll Handle Your Sewage Damage Cleanup
In addition to water damage cleanup, we also handle sewer backup and sewer line break issues in Marysville PA. Sewage damage can be harmful to both residential and commercial properties in various ways. Sewage can come from your sewer drain in your basement, your drain pipes to your shower, sink, toilet, or washer, a leaking wax ring on your toilet, and even your toilet bowl. 
When you require sewage backup cleanup, it's crucial to seek professional help in Marysville to clean, sanitize, and restore the affected property promptly. Turning Point Restoration will provide you with sewage removal and sewage cleanup to protect you and your loved ones.
CONTACT YOUR MARYSVILLE WATER DAMAGE SPECIALISTS TODAY
Whether you experienced significant storm damage loss or have some broken or leaky pipes, our home restoration services in Marysville PA are available 24/7. When you need emergency water removal, our mission is to inspect your home thoroughly to ensure that all excess water and moisture is eliminated. We approach every job with attention to detail and won't stop until your water damage is repaired, and your life can return to normal.
Contact us today for any flood cleanup emergency you may have; we're standing by for your call right now!
We provide services throughout Marysville PA and the surrounding areas, including 17053.