Water Damage Restoration Lawn PA, WATER DAMAGE CLEANING & REPAIR






• TopRatedLocal.com winner




• 24/7 live calls




• On our way within an hour




• Free estimates




• Veteran owned and operated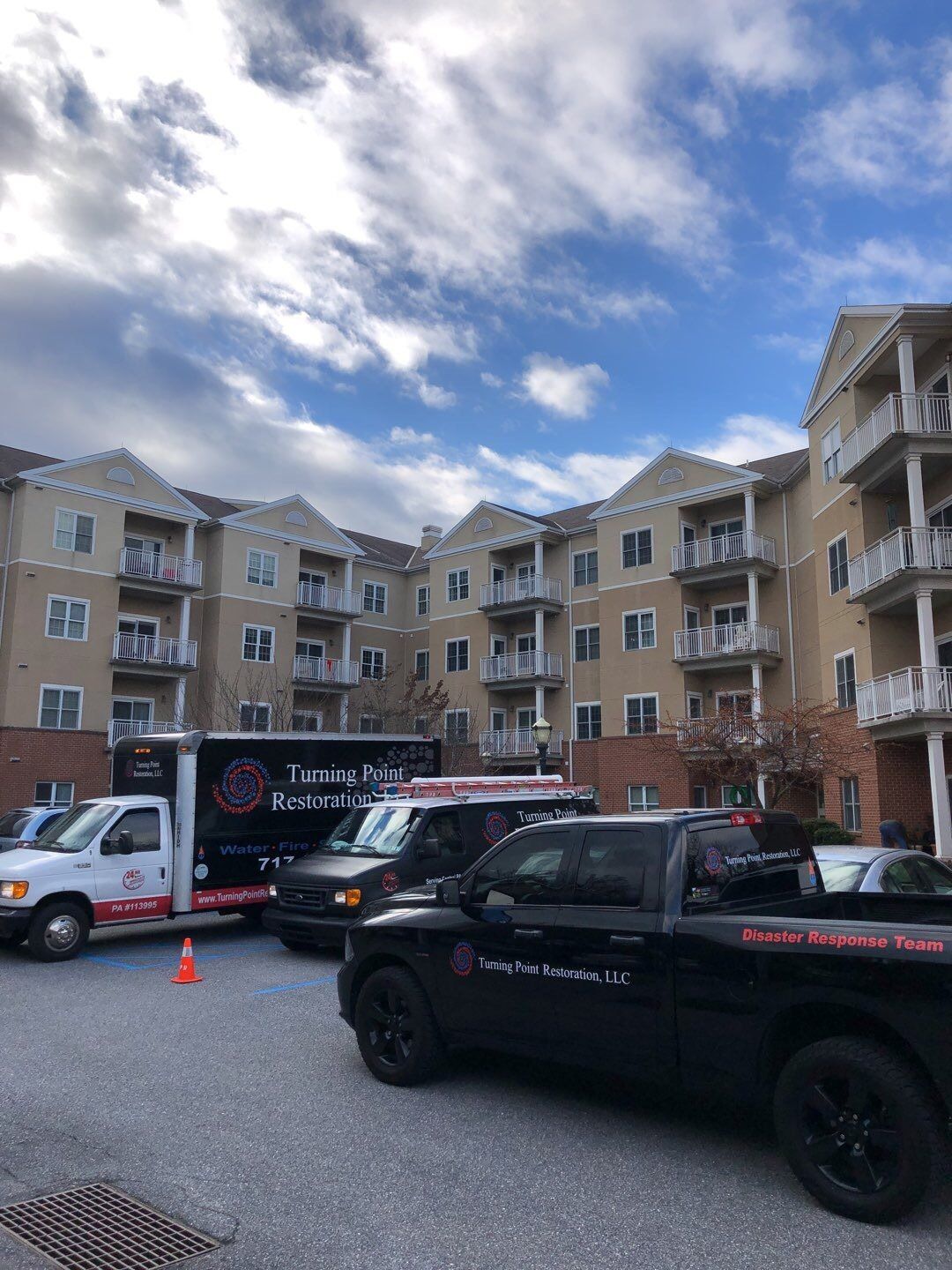 THE "

TURNING POINT

" OF YOUR DISASTER.




OUR PASSION IS SERVING YOU IN YOUR TIME OF NEED



ABOUT Our Water Damage Company
Turning Point Restoration, LLC is a Veteran-Owned, full-service restoration contractor. We help property owners in Central PA and the surrounding areas overcome the challenges resulting from unexpected damages to their homes and businesses. 
Our company is based on the belief that we treat each loss as if it were our own. We take pride in our ability to communicate with our customers and it shows by the many online reviews that our customers leave for us. We believe in staying on the cutting edge of restoration technology and continuing education opportunities for our entire staff.   Technicians are certified by the IICRC (Institute for Inspection, Cleaning, and Restoration Certification) and are prepared to restore your home or business to pre-loss condition. Your total satisfaction is our promise to you!
Water Damage Cleanup and Removal for Every Situation
The inevitable has occurred. A pipe has burst, your water heater or roof has leaked, or you've experienced storm or flood damage - all these scenarios lead to one common consequence for your home or business: water damage. 
Once you've moved past the initial shock, it's time to bring in the experts from Turning Point Restoration. As a leading Lawn water damage restoration company, we possess state-of-the-art equipment and a team of certified professionals to swiftly evaluate the situation, initiating water mitigation procedures without delay. Our primary focus is to restore your property to its original state as swiftly and efficiently as possible. 
Whether it's a leaky or broken pipe, frozen pipe water damage, sink overflow, toilet overflow, bathtub overflow, refrigerator, washing machine, water heater, or dishwasher overflow, air conditioner leaks, sump pump failure, hardwood floor water damage or flooding, our seasoned Lawn water damage restoration specialists are equipped to clean the area and mend the damage utilizing our proven water damage services.
SEWAGE BACKUP CLEANUP AND REMOVAL
Beyond water damage cleanup, we also address sewer backup and sewer line break problems in Lawn PA. Sewage damage can wreak havoc on both residential and commercial properties in several ways. Sewage can originate from your basement sewer drain, drain pipes leading to your shower, sink, toilet or washer, a leaking wax ring on your toilet, or even from your toilet bowl. 
If left untreated, sewage issues can lead to significant structural damage, which can be extremely costly to fix. When faced with a sewage backup problem, it's crucial to get professional help in Lawn to clean, sanitize, and restore the affected property promptly. Turning Point Restoration is ready to offer sewage removal and cleanup services to keep you and your family safe. 
Sewage damage is rife with high levels of harmful bacteria and poses serious health risks. Exposure to fecal matter or raw sewage could result in diseases, ruin personal belongings, and cause severe damage to your property. If the contamination is left standing, the damage will escalate, threatening your property with mildew and additional damage.
Basement Water Damage Restoration and Repair
It's a well-known fact: insurance company research has found that 98% of basements will suffer from water damage at some point. This is hardly surprising, given that most of a property's plumbing is located in the basement. Moreover, if your Lawn property's foundation hasn't been adequately waterproofed, the continuous pressure may eventually lead to cracks in the foundation and water intrusion. Storm damage can particularly exacerbate the situation, leading to accelerated water accumulation in the basement. 
Neglected basement flooding is a severe issue that can quickly escalate. It's important to engage a professional who knows how to carry out thorough basement water damage cleanup and structural drying. Any basement water damage should be addressed immediately to prevent further damage. If your basement is flooded, don't hesitate to contact us to begin your basement water damage repair.
Expert Water Damage Services
Water damage restoration is a critical service that requires the highest level of professionalism and experience to help you get through a difficult event such as a flood or leak, and ensure that all moisture is effectively removed without causing further damage to your home or commercial building. With Turning Point Restoration in Lawn, that is our specialty, and our promise. 
We make sure our water damage company will be with you through every part of the process including the water extraction, water restoration, and any other water removal services that your situation requires. We use all available Lawn water mitigation services to give you the best residential or commercial property restoration. 
Contact Your Lawn Water Damage Company Today
No matter if you had large-loss from sudden storm damage, or have some broken pipe water damage or even just leaky pipe water damage, Our home water damage restoration services in Lawn PA are available 24/7. When you need emergency water removal, we make it our mission to check your home from top to bottom to make sure that all excess water and moisture is eliminated. We work with attention to detail on every job and will not rest until your water damage is repaired and your life can return to normal.
Contact us today for any water or flood cleanup emergency you have, we're waiting for your call right now!
We provide services throughout Lawn PA and the surrounding areas, including 19111, 19120, 19124.